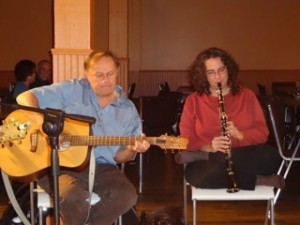 Fork: "That's a weird tune you composed."
Spoon: "I tried to make it completely traditional."
Fork: "How cool you can write that tune down."
Spoon: "How cool you don't have to."
Fork: "Drive 'er!"
Spoon: "Huh?  Who?"
Fork and Spoon, formed in 2012, is a duo made up of composer/clarinetist Barbara White and guitarist Charles MacDonald.  Our backgrounds are very different: Barbara reads music and comes from the contemporary classical [for lack of a better term] world.  Charles, A native of St. Peter's, Nova Scotia, is steeped in the Cape Breton tradition and plays exclusively by ear.  Our rehearsals are always full of surprises and fruitful misunderstandings, including amusing exchanges like those above.  We play traditional Celtic music from Cape Breton alongside Barbara's compositions and arrangements by both of us.  Recent performances include the Music Camp on the Canal All-Star Concert in June 2013 and the St. Peter's Summer Sessions Ceilidh in August 2013; we've also been participating in open mics at the Acadiaville Community Centre Fun Days, the Hawg and Hen at St. George's Channel, and the Celtic Colours-sponsored Kitchen Rackets Acoustic Jam Sessions.  Our growing repertoire includes traditional Celtic tunes such as jigs and reels, less traditional Celtic tunes such as slippery jigs and sur-reels, arrangements of Scottish and Irish folk songs—including one previously arranged by Beethoven!—and our own inventions.
Audio Clips
"McSweeney's One-Cent Lament" was inspired in part by "Caledonia's Wail for Neil Gow, Her Favourite Minstrel" by Capt. Fraser, which Barbara learned from Jordi Savall's The Celtic Viol.  Rose Marie McSweeney is one of the two grandmothers Barbara never met, but Rose Marie appears from time to give a tune.
"Lament of the Books" is one of the names for a beautiful traditional tune given to us by Martin Langford at the first Music Camp on the Canal in St. Peter's, Nova Scotia in June 2012.  "The Lonely Lark of Central Park" is Barbara's recomposition of "The Lovely Lass of Inverness," which she learned from Beethoven's Scottish Folk Song settings; she took out the Beethoven and made it folk-like again.
This is an excerpt from the St. Peter's Pennies set, which was commissioned by Kitchen Rackets from the second Music Camp on the Canal in June 2013.  Barbara was asked to write a tune for all camp participants—from age six to sixty, beginner to professional, from banjo to fiddle to bodhrán.  Sad about the simultaneous demise of the Canadian penny, she wrote a simple tune, with only five notes.  Perhaps together they make a nickel.